This is superb: the story of the basketball star who became a nun
August 4, 2019 by Deacon Greg Kandra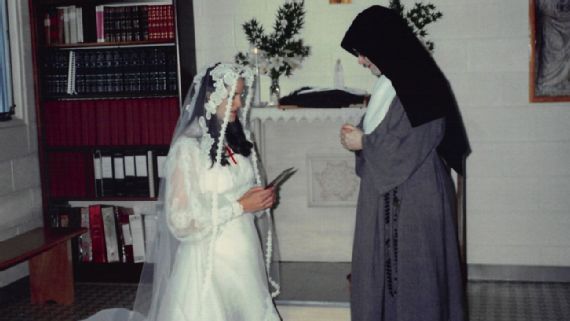 You won't find a better vocation story than this. Check this out, from ESPN:
She left with the clothes on her back, a long blue dress and a pair of shoes she'd never wear again. It was June 8, 1991, a Saturday morning, and Shelly Pennefather was starting a new life. She posed for a group photo in front of her parents' tidy brick home in northern Virginia, and her family scrunched in around her and smiled.
All six of her brothers and sisters were there — Little Therese, in braided pigtails; older brother Dick, tall and athletic with Kennedyesque looks. When Shelly came to her decision, she insisted on telling each of them separately.
Dick had the loosest lips in the family, so she'd told him last. Therese, 12 years old and the baby of the family, took the news particularly hard. She put on a brave face in front of Shelly, then cried all night.
They crammed a lot of memories into those last days of spring, dancing and laughing, knowing they would never do it together again. Shelly went horseback riding with Therese and took the family to fancy restaurants with cloth napkins, picking up all the tabs.
Twenty-five years old and not far removed from her All-America days at Villanova, Pennefather was in her prime. She had legions of friends and a contract offer for $200,000 to play basketball in Japan that would have made her one of the richest players in women's basketball.
And children — she was so good with children. She had talked about having lots of them with John Heisler, a friend she'd known most of her life. Heisler nearly proposed to her twice, but something inside stopped him, and he never bought a ring.
"When she walked into the room," Heisler said, "the whole room came alive.
"She had a cheerfulness and a confidence that everything was going to be OK. That there was nothing to fear."
That Saturday morning in 1991, Pennefather drove her Mazda 323 to the Monastery of the Poor Clares in Alexandria, Virginia. She loved to drive. Fifteen cloistered nuns waited for her in two lines, their smiles radiant.
She turned to her family.
"I love you all," she said.
The door closed, and Shelly Pennefather was gone.